Top 10: Greatest Saddle Bronc Riders in Canadian History
CALGARY, Alberta — The following is a list of the Top 10 Greatest Saddle Bronc Riders in Canadian History. This list was created by Ted Stovin of Everything Cowboy Inc. with information gathered from the Professional Rodeo Cowboys Association (PRCA) media guide, Canadian Pro Rodeo Association (CPRA) media guide and numerous searches of both websites for the Pro Rodeo Hall of Fame and Canadian Pro Rodeo Hall of Fame.
This list accompanies a conversation had on Cowboy Sh*t the Podcast, hosted by Stovin and Wacey Anderson. To discuss this list, Stovin and Anderson speak to Canadian rodeo royalty in Wayne Vold and Dustin Flundra.
You can listen via the player below or by heading over to CowboyShit.ca
After speaking to the Top 10 Greatest Bull Riders in Canadian History, this list is segment No. 2 in what will become a series representing the greatest western sports athletes ever born in Canada.
RELATED: Top 10: The Greatest Bull Riders in Canadian History
You may or may not agree with the list, however in previous discussions, building a point system was deemed to be the only way to objectively rank these contestants based on their accomplishments over a span of nearly a century. This is not the definitive list but it's the closest thing to one that has likely ever been made in Canada so far. Please leave your thoughts in a comment below.
Points system breakdown
PRCA World Titles – 100 points
NFR Aggregate Titles – 40 points
NFR Qualifications – 20 points
CPRA Titles – 10 points
To begin, we start with a pair of honorable mentions. These two men could have made the list however not being born in Canada it was decided they couldn't be properly added to the list even if they may be or have been Canadian citizens. It must also be noted that 1946 PRCA World Champion Jerry Ambler, born in Minburn, Alberta is the only such Canadian born Champion of the world not to qualify for the list due to the lack of information and absence of the National Finals Rodeo at the time. However, we still wanted to mention him. For more on Ambler, read this article in from Canadian Cowboy Country Magazine. 
Glen O'Neill – 370 points
One PRCA World Title (100), 11 WNFR qualifications (220), one WNFR aggregate title, (40), one Canadian title (10)
Glen came to Canada from Australia and became a Canadian Citizen shortly thereafter. He had won all there was to win in the land down under, being named the Australian SB Champion in 1992, so set his sights on conquering the saddle bronc event in Canada and the US. Did he ever accomplish that!!!
Glen started off winning the 1995 Calgary Stampede $50,000, then tied the Canadian Highest Point ride record of 95, riding Airwolf at the Innisfail Rodeo. Glen continued to make his mark in rodeo taking the Canadian Saddle Championship in 2000 then the World Championship in 2002. Glen and his wife Jennifer have two beautiful children and reside on a ranch outside of Didsbury.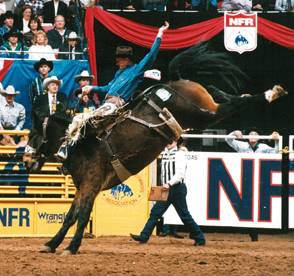 The first contestant from outside North America to be inducted into the ProRodeo Hall of Fame, Glen O'Neill was the saddle bronc riding champion of his native Australia before moving to Canada as a teenager and establishing himself as an elite competitor for more than a decade, capped by winning the world championship in 2002.
O'Neill was the 1994 PRCA Resistol Saddle Bronc Riding Rookie of the Year and then qualified for the first of his 11 National Finals Rodeos a year later. Eight times he finished among the top five in the world standings, going head-to-head with fellow Hall of Famers Billy Etbauer and Dan Mortensen all through his career, and earned $1,614,860.
O'Neill captured the NFR average title on his way to the 2002 gold buckle and was reserve world champion in both 2001 and 2003, finishing less than $5,000 behind Mortensen in his title-defense year.
"One of the things that gives me the greatest joy is to think about where I started and how far I have come, as far as rodeo and in life, moving halfway across the world and making this life for myself," O'Neill said.
A Canadian Champion in 2000, O'Neill also owns a tie of the world record in the saddle bronc riding at 95 points on the legendary Airwolf and was inducted into the Canadian Pro Rodeo Hall of Fame in 2011 and Pro Rodeo Hall of Fame in 2014.
Text courtesy of the Pro Rodeo Hall of Fame
Pete Knight – 400 points
Four PRCA World Titles (400)
Peter Charles Knight was born May 5, 1903 in Philadelphia, the youngest in a family of English-Irish immigrants. A farm in Stroud, Oklahoma was their home until 1914, when they moved to the Crossfield, Alberta area to homestead. Pete's rodeo career started when he rode in his hometown at 15, winning second monies in bronc riding both days.
The farm work was heavy, but by the time Pete was 20 his two older brothers, Robbie and Walter, who were not rodeo minded. They took over the responsibilities, and Pete headed out to break into the big league. After successfully competing at several smaller shows, Pete entered Calgary in 1923, however he did not compete as a bad fall in the parade left him with a severe leg injury. He returned to the farm to heal up, and in the spring of 1924 struck out again making quite a name for himself, particularly when he conquered the great horse "Midnight" in Montreal in 1926.
Among the many awards won by Pete Knight, was the coveted "Prince of Wales" trophy, awarded annually at the Calgary Stampede to the champion bronc rider. Once a cowboy's name was on the trophy three times it was his to keep. The inspiration of this challenge stimulated Pete and he succeeded in winning the event in 1927, 1930 and the trophy was his to keep with another win in 1933 along with world championships in 1932, 33, 35 and 36.
Pete met his untimely death at a rodeo in Hayward, California, May 23, 1937. A horse named Duster had reared high out of the chute and then pulled Pete down, slamming his chest into the saddle horn. Pete kept trying to get off and finally landed on his hands and knees. His last known words were "Perry, I'm hurt". Perry Ivory being the arena director). Pete was carried behind the chutes by fellow cowboys and succumbed to his injuries of a pierced lung and massive hemorrhaging. Bud Batteate, a fellow contestant, had just ridden, and Pete had pulled the gate for him. Upon conclusion of his ride, Bud hurried over to the chutes to watch Pete ride Duster. Pete was older than Bud and was the young cowboys' idol. Bud remembered that day in May, as Pete was carrying his baby girl around, proud as a peacock. She was not even one month old! Bud was honored at the NFR in 2011, along with ten other cowboys, as being the surviving group of original Turtle Association. Bud contacted the CRHA, and wanted the true record of Pete's last ride recorded correctly for history's value. The CRHA thanked him for his recollections and for his friendship to Canada's rodeo hero, Pete Knight.
The fantastic ability of Pete never went unnoticed. He was inducted into the National Cowboy Hall of Fame in Oklahoma City, the Pro rodeo Hall of Fame in Colorado Springs, and the Horsemen's Hall of Fame in Calgary. He was enshrined in song by Wilf Carter and was memorialized by the opening of the Pete Knight Arena in Crossfield. Even now many years after his passing he is still regarded as the greatest bronc rider of them all.
Text courtesy of the Canadian Pro Rodeo Hall of Fame 
Both Pete Knight and Glen O'Neill could be considered Canadian for the intention of building this list, however to the best of my knowledge and the homework I did, the athletes below have all been Canadian since birth and therefore make our list outright. Enjoy the read and the show!
10. Duane Daines – 190 points
Nine WNFR qualifications (180) and one Canadian title (10)
Duane Daines of Innisfail, Alberta enjoyed a 17 year professional career which culminated with three Canadian All-Around Championships, a Canadian Saddle Bronc Riding title in 1991 and almost $700,000 in career winnings.
Throughout the years of competition Duane became well known to many people as an outstanding ambassador to rodeo. He served on the CPRA Board of Directors, worked closely with the media to promote the sport of rodeo, volunteered at fundraising events as an auctioneer and visited schools while still managing to travel hard enough to qualify for nine NFR's between 1983 and 1993 and 13 Canadian Finals. Rodeo was in Duane's blood and while inspiration from his father, Jack Daines and his uncle Ivan was a motivating factor, it was Duane who set his sights on being an All-Around cowboy early in life.
While saddle bronc riding became Duane's forte, he diligently practiced at calf roping until it paid off with an Alberta High School All-Around Championship in 1976. Daines turned pro at just 19 years of age and acquired his pilot's license a year later. Flying the skies reaped rewards for Duane over the course of his career. He won many major rodeos including Houston, Texas; St. Paul, Oregon; Oakdale, California; North Platte, Nebraska and the All-Around Championship at the San Antonio Stock Show and Rodeo.
Duane, among many other accomplishments, was the first Canadian saddle bronc rider to win the $50,000 showdown at the Calgary Stampede in 1990. Perhaps the highest honors won by Duane during his incredible career were that of Guy Weadick recipient at the 1991 Calgary Stampede and Cowboy of the Year in 1995.
Long admired by his peers and rodeo fans alike, Duane's popularity soared after he found his own life shattered by a saddle bronc injury which left him paralyzed from the waist down. With amazing fortitude Duane quickly picked up the pieces of his life and went on to inspire thousands of friends and fans as he forged ahead as a husband, father, auctioneer, rodeo promoter and radio broadcaster, and advocate for the disabled. Duane has been a role model not only for young bronc riders and cowboys the world over but for many people who have been encouraged by his humble acceptance and winning attitude in life.
Already a member of the Alberta Sports Hall of Fame, his induction into the Canadian Pro Rodeo Hall of Fame will be the crowning achievement in a stellar career that continues to enrich the sport of rodeo.
Text courtesy of the Alberta Sports Hall of Fame
9. Carl Olson – 210 points
One PRCA World Title (100), three Canadian titles (30) and four WNFR qualifications (80)
*A total of 80 points for four WNFR qualifications were added for Carl Olson as he was also the reserve champion of the world in 1945, 1946 and 1948. There was no NFR before 1959.
Carl was born in 1914 in the Wood Mountain district of southern Saskatchewan, where he lived as a boy near the village of Fir Mountain. His mother died when Carl was a young fellow, leaving his three sisters, his father and him to cope with life's problems without her help. During the Great Depression of the "Hungry Thirties", Carl worked for ranchers in the area, and while breaking broncs for them became interested in a rodeo career as a Saddle Bronc rider. He started with the local rodeos, and getting on the big, salty broncs of the short grass country was good experience for a future champion.
Carl moved to Alberta in the late 1930's where he soon became known as a top Saddle Bronc Rider and Steer Wrestler. The bigger the bronc, and the harder he bucked, the more Carl spurred. Every horse he got on knew the "feel of steel." For several years Carl was a full time rodeo contestant in Canada and the United States. During this time he competed and won money at every major rodeo in both countries. Some of his big wins were the bronc riding at Houston in 1947, Tulsa in 1948 and Edmonton in 1952. In 1954 he won the bronc riding for the Southern Alberta Circuit, and decided then to hang his chaps and saddle on the peg.
Carl was the first Canadian born cowboy to be recognized as both Canadian and World Champion Bronc Rider by the respective associations, inducted into the Canadian Pro Rodeo Hall of Fame in 1982.
CANADIAN CHAMPIONSHIPS
Cowboys' Protective Association
All Around – 1945
Saddle Bronc – 1945, 1946, 1948
Steer Wrestling – 1948
WORLD CHAMPIONSHIPS
Rodeo Cowboys' Association
Saddle Bronc – 1947
International Rodeo Association
Saddle Bronc – 1948
Text courtesy of the Canadian Pro Rodeo Hall of Fame 
8. Winston Bruce – 320 points
One PRCA World Title (100), two Canadian Championships (20) and a 10-time NFR qualifier (200)
Winston Bruce has made his mark on rodeo, not only as a contestant but also as an administrator and a visionary. As a rodeo competitor, he was a 10-time National Finals Rodeo qualifier in saddle bronc riding. The native of Stettler, Alberta, developed a winning style through hours of practice, even in the snow. He summed up his formula for success as nerve, ability, coordination, balance and try. Bruce was the 1957-58 Canadian saddle bronc riding champion, and he won the saddle bronc riding title at Calgary and Cheyenne in 1959. In 1961, Winston Bruce won the world title. The son of a stock contractor Lawrence Bruce grew up around cowboys and rodeos.
In 1969, Bruce made the move from competing to working in rodeo. He was named assistant arena director of the Calgary Stampede, and in 1970, he became arena director. From 1980-2002, he served as division manager for the rodeo, supervising the production of the Calgary Stampede and the "Born to Buck" stock breeding program that still lives today. Bruce, born Oct. 27, 1937, was the first Canadian contestant inducted into the ProRodeo Hall of Fame in 1989. Bruce was inducted into the Canadian Pro Rodeo Hall of Fame in 1995.
Winston passed away on July 10, 2017 during the Calgary Stampede. One of rodeo's greatest, Winston was honored the following day by the "Greatest Show on Earth" which he helped create.
Text courtesy of the Pro Rodeo Hall of Fame

7. Zeke Thurston – 350 points
Two PRCA World titles (200), one Canadian title (10), five WNFR Qualifications (100), one WNFR aggregate title (40)
As the only current contestant on the list, Thurston could end up much higher on this list by the end of his career. Depending how a person counts, he could be as high as No. 2 or 3 as one of only three Canadians to hold multiple world titles in the saddle bronc riding event, and any event for that matter. Joining the PRCA in 2015, Thurston has qualified for the league's super bowl five times already in his illustrious career, claiming the gold buckle in both 2016 and 2019. On his way to claiming his first world title in 2016, Thurston also earned the prestigious Wrangler NFR aggregate title. In 2019, Thurston would ride Special Delivery from the Calgary Stampede to a score of 94 points in Pollockville, Alberta, one point off the world record shared by Glen O'Neill and Doug Vold at matching 95's both on Canadian soil.
Growing up in a rodeo family, Zeke and his brothers Sam and Wyatt earned the Canadian Pro Rodeo Contract Act of the Year award in 2005 and 2007 trick riding and trick roping as part of The Thurston Gang. They appeared at the CFR five times and performed for both Prince William and Princess Kate. In 2008, Thurston won the Canadian Pro Rodeo title in the steer riding event and was a three-time qualifier for the National High School Finals Rodeo along with the College National Finals Rodeo (CNFR). Zeke's father, Skeeter qualified for the NFR six times (1986-87, 1989, 1991, 1994-95) also as a saddle bronc rider. Mom, Lynda (journalist and singer) and sister, Tess competes in the barrel racing and goat tying.
Zeke Thurston lives in Big Valley, Alberta with his wife, Jayne and their daughter Lucy, born in 2018.
6. Rod Warren – 380 points
Four WNFR aggregate titles (160), ten WNFR qualifications (180) and two Canadian titles (20)
Rod Warren of Valleyview, Alberta captured his first of nine Canadian All Around Championships in 1994, and qualified for the WNFR that same year. It would be the second of ten appearances in Las Vegas for Warren, who won the aggregate award four times, once in 1998 and three times in a row from 2003 to 2005. "Moose" as he's known, won the Canadian Hi Point Championship three times and the Canadian title in the saddle bronc riding title in 2001 and 2005.
The list also includes an impressive 20 CFR trips to Edmonton. In both 1992 and 2003 Warren won the $50,000 bonus in the bronc riding at the Calgary Stampede, topping a career earnings of nearly $1.2 million. Warren credits World Champion Blaine Pederson for helping him learn the steer wrestling event, key to his all around success.
Competing alongside the likes of Rod and Denny Hay and Glen O'Neill was no easy task, but in 2001 Warren broke through and claimed his first Canadian saddle bronc title. "I told somebody 'I think I finished second again. That's about the sixth time and I'm tired of this'," Warren laughed, as recorded in the 2002 Canadian Pro Rodeo Media Guide. "but they proved me wrong, so I'm just happy to win it."
Rod, Jennifer, Hayden, Cole and Landon now reside in Big Valley, Alberta. Warren was inducted into the Canadian Pro Rodeo Hall of Fame in 2012.
5. Mel Coleman – 390 points
16 WNFR qualifications (320) and seven Canadian titles (70)
Mel Coleman started going to rodeos before he could walk. His dad was a pick-up man for Verne Franklin, and his mom was a barrel racer and timed numerous rodeos. The rodeo life was always around them and it was all he knew, so it just seemed natural that he would end up pursuing the lifestyle himself.
His first event was the boys steer riding, in Meadow Lake, Saskatchewan, in 1957. It was onwards and upwards from there. He broke many Canadian records, many of which still stand.
Coleman qualified for the CFR 20 times in saddle bronc, from with 19 consecutive between 1974 to 1992, and the final time 1995. His 16 consecutive WNFR qualifications are fourth most all-time, and second most ever by a Canadian.
He was the Canadian Saddle Bronc champion seven times: in 1974, 1975, 1977, 1978, 1983, 1986, and 1989. He was the Canadian All-Around champion five times.
"You don't set out to break records," he said in 1989, during the peak of his rodeo career: "You set out to make a living. "
Mel Coleman moved on to the team roping event after his bronc riding career and competed for Team Canada at the Salt Lake City Olympics in 2002. Coleman, originally from Saskatchewan, now resides in Arizona.
Text courtesy of the Canadian Pro Rodeo Hall of Fame 
4. Kenny McLean – 450 points
One World title (100), three WNFR aggregate titles (120), five Canadian titles (50) and nine WNFR qualifications (180)
Considered by many to be the greatest Canadian rodeo cowboy of all time, Kenny McLean, from Penticton, British Columbia, had a career distinguished by its volume, versatility and singular consistency. The PRCA Rookie of the Year in 1961, McLean won the saddle bronc riding world championship a year later and went on to qualify for the National Finals Rodeo a total of nine times (1961-65, 1967-69, 1971).
As a mark of his consistency, he never missed winning an average check at the NFR in an era when the payouts only went six deep. He won the saddle bronc riding average title three times (1964, 1968 and 1971), finished second once, fourth twice and sixth three times.
In 77 rides at the NFR, he was bucked off only five times.
McLean also qualified for the NFR in tie-down roping in 1972 – the year he won the Canadian tie-down roping, steer wrestling and all-around championships. Overall he won four Canadian titles in the all-around and five in saddle bronc riding.
That sort of versatility twice won him the Linderman Award (1967, 1969), given annually to the cowboy who displays the highest level of excellence at both ends of the arena.
McLean never lost his love of the sport and never stopped competing. He was on his team roping horse waiting to compete at a senior rodeo in Taber, Alberta, in 2002 when he suffered a fatal heart attack.
In 1976 Kenny McLean was awarded the Order of Canada, inducted into the Canadian Pro Rodeo Hall of Fame in 1993 and the Pro Rodeo Hall of Fame in 2013.
Text courtesy of the Pro Rodeo Hall of Fame
3. Mel Hyland – 460 points
Two World titles (200), four Canadian titles, (50) and 11 WNFR qualifications (220)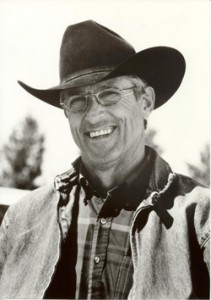 Mel Hyland of Edmonton, Alberta, grew up with his own arena and practice bucking horses. There could be no other career choice but rodeo, and in 1966, he joined the pros. It took him just one year to qualify for the Wrangler National Finals Rodeo, and by the time he was done, he had reached rodeo's ultimate event 11 times, winning world saddle bronc riding titles in 1972 and 1976.
Hyland was the first cowboy to win the Canadian and PRCA saddle bronc riding championships in the same year, doing so in 1972.
His Canadian titles came in 1967, 1972, 1979 and 1982 in saddle bronc riding and 1974-75 as a bareback rider. He also served on the CPRA board of directors in 1974-75. Hyland considered his ride on Reckless Red at the 1967 Cheyenne (Wyo.) Frontier Days to be the best of his career. Others consider it to be the standard of what a truly classic ride is. Videos of the ride are mandatory in some college rodeo classes today. Known by his rodeo contemporaries as "Big Bull," Hyland is remembered for his riding ability, classy stand and professional attitude.
Hyland was inducted into the Canadian Pro Rodeo Hall of Fame in 1996 and the Pro Rodeo Hall of Fame in 1999.
Text courtesy of the Pro Rodeo Hall of Fame
2. Rod Hay – 520 points
One WNFR aggregate title (40), 20 WNFR qualifications (400) and eight Canadian titles (80)
Rod Hay, son of Fred and Sharon Hay was destined to become a cowboy.  It was all he and his brother Denny ever wanted to do.  His dad was a saddle bronc rider, and the family would go to rodeos nearly every weekend.  "We knew we wanted to rodeo and we knew we wanted to be cowboys", Rod said. No one would have guessed that the kid from Mayerthorpe, Alberta who started riding steers in 1982, would one day be considered one of the best in the world, over decades.
Too young and small to be the bull rider he wanted to be, Rod's itch to stay involved after steer riding set him up to pursue bronc riding. Crowned Canadian Novice Saddle Bronc Champion in 1988, Rod took off January 1st, 1989 in pursuit of success, which he found by year-end, as the CPRA Permit award winner and PRCA Rookie of the year, qualifying for his first of 20 NFR's. Rod continued to win many rodeos and awards in the years that followed, including the 2006 Guy Weadick Memorial Award, and CPRA Cowboy of the Year in 2014. His first Canadian Bronc Riding championship came in 1990, with follow-up wins in 1992 and 1993.
For Hay, 1994 was a big year for the young cowboy. In July, one of his favorite rides on Kingsway, earned him is first of four Calgary Stampede Saddle Bronc titles. On September 11th, 1994 he married Shelly, adding the title of husband to his wins, followed by a fourth Canadian Bronc Riding title that November.
In 1997, Hay added the title 'father' with the arrival of his first son, and his fifth CPRA Bronc Riding title. The next seven years included three more Canadian Saddle Bronc Championships: 1999, 2000, 2004.  Over his extensive career, Rod made a lot of outstanding rides on great horses, but there is one that he was always excited to see beside his name" "Vold's W4 Hurricane. That horse was great! I got on him eight times and eight times I won!"
In June, 2010 Rod suffered what turned out to be a career ending injury yet still qualified 20 times for both the NFR and CFR. Now he spends his time: riding, playing hockey, hunting and fishing. At home on the ranch with his wife Shelly and sons: Logan, Dawson and Devon, he raises bucking horses and cattle. Rod may no longer compete, but he's still very involved in rodeo and the western lifestyle. You can find him coaching and cheering on his boys, hosting riding schools sharing his experience and knowledge with up and coming bronc riders, supporting rodeo at charity events, practice pens, and helping to put on events like the Wildwood Bronc Bustin'.
Rod insists he was blessed with good luck, but no cowboy could achieve what he has accomplished without an abundance of talent. In 2019 Rod Hay was inducted into the Canadian Pro Rodeo Hall of Fame and his son Dawn, qualified for his first Wrangler NFR.
Text courtesy of the Canadian Pro Rodeo Hall of Fame 
1. Marty Wood – 650 points
Three-time World Champion (300), 14 WNFR Qualifications (280), one WNFR Aggregate title (40) and three Canadian titles (30)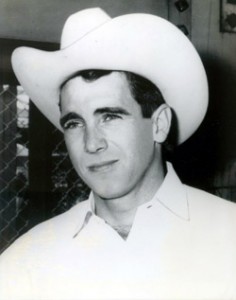 Born June 4, 1933 in Bowness, Alberta, Marty Wood, the son of Harry and Dorothy Wood, was one of the most consistent saddle bronc riders ever.
Marty's kinship with horses began at an early age. His father had a pony for him when he was three years old, and Harry later operated a riding academy and traded horses where Marty schooled colts and green jumpers for his dad who recalls, "Even at 12 he was a natural." It was only a matter of time for the teenager, with the uncanny knack of riding, to turn toward rodeo. The legendary Pete Knight, a friend of his father's was no doubt an
inspiration to Marty.
In 1951, Marty rode his first contest horse at Olds, Alberta, and two years later took out his pro card. Occasionally riding bareback horses and bulls, Marty soon dropped these events and specialized in saddle bronc riding. His first venture across the line was Omaha, Neb, in 1953 when the 20-year-old unknown made six near-perfect rides and left with all the prize money.
Having made some of the sport's most sensational rides on the rankest horses, coupled with consistency, earned Marty three world championships in 1958, '64 and '66. In 1963 he was $244 short of repeating this feat. From 1958 to 1967 Marty was never less than fifth in the World standings. He won the Canadian saddle bronc championships in 1954, '55 and '63 and the Calgary Stampede championship in 1954, '57, '61 and '64.
For more than two decades Marty dominated the saddle bronc event and has won almost every major rodeo in North America. He qualified for the National Finals Rodeo 14 times from 1959 to 1974, with the exception of 1971.
Marty was honored by the Calgary Stampede as a Pioneer of Rodeo in 1988, inducted into the Pro Rodeo Hall of Fame in 1991, Alberta Sports Hall of Fame and Canadian Pro Rodeo Hall of Fame both in 1994.
Marty's flashy style and tremendous ability to ride made him one of the most outstanding saddle bronc riders that has ever contested in the sport of rodeo.
Text courtesy of the Canadian Pro Rodeo Hall of Fame 
A special thank you goes out to the Alberta Sports Hall of Fame, Canadian Pro Rodeo Hall of Fame, Pro Rodeo Hall of Fame, Canadian Pro Rodeo Association, Professional Rodeo Cowboys Association, Barb Poulsen, Scott Kaniewski, Carol Lawrence and Dianne Finstad for making this possible. Another thank you goes to Dustin Flundra and Wayne Vold for discussing the list for the podcast and always my co-host Wacey Anderson.
Thank you,
Ted Stovin
Comments
comments